History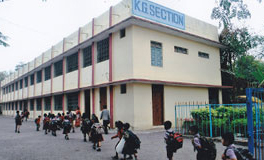 Vishwadeep Senior Secondary School is an unaided co-educational English Medium Senior Secondary School established at Durg on 21.07.1969 under the management of Franciscan Clarist Sisters. (Reg. No. 3359 dated 30.07.1973 affiliated to the Central Board of Secondary Education, New Delhi. (Affiliation NO. 3330049) Vishwadeep - a tiny seed planted with 90 little kids in KG has grown to its present size and complexity over the years with the addition of various other sections according to the needs of the people around. The institution celebrated its Silver Jubilee in 1994 and has successfully completed the construction of a school Auditorium and a solemn inauguration and the blessing of a Computer Lab with ultra modern computer in the same year.
The tiny seed which was sown at Durg in 1969 is grown into a mighty tree through the hands of the principals and local superiors who were the mere instruments in the all-powerful hands of God. Today Vishwadeep senior secondary school is one of the popular CBSE schools in Chhattisgarh state.
After half a century Vishwadeep remains committed to the education of all-round, unique, reflective individuals with global perspective and the zeal to strive for excellence. There have been ups and downs but anyone who can think what things were like after 50 years of existence of this institution appreciates what immense changes have been achieved since then. Generations of Vishwadeepians have borne to witness to this with outstanding achievements. Vishwadeep is exemplary in so many ways that it has every reason to look back on its 50 years with pride and satisfaction.
From the very modest beginning in 1969 Vishwadeep school has grown leaps and bounds and now stands tall and proud with a role of over 3326 students. Talented students from the school have excelled not only in academies but also made a mark in literary and cultural activities. Vishwadeep has played a central role in educating generations of Indian youth many of whom have gone to play an important role in society whether in business or in public life.
In the academic year ( 2018-19) Vishwadeep Sr. Sec. School has celebrated its Golden Jubilee. Our hearts are filled with thanks giving to God for all the blessings our school has received. We thank all our Sisters, benefactors and collaborators who over the years have labored with love for our students and for our people around. We pray that Vishwadeep continue to enlighten thousand of students in the years to come.